TESTIMONIALS
"My Healthy Home® is an excellent resource for individuals who suffer from allergies or chemical sensitivities. When I needed to find alternatives for products I could no longer tolerate due to my allergies, they were able to offer suggestions. They helped with natural pesticides, environmentally friendly household cleaners and helped to educate about how chemicals may adversely effect our health. They are a one of a kind business and certainly a needed service. Their genuine concern for their cliental and sincere interest in promoting a "green" planet are apparent. I strongly support them."
-Bob R., Vernon, NJ
"Genuine, deepest thanks for end-less advice and ideas about solving my mold problems. You are a true "gem"."
- Ellen Beverly, NJ
Environmental Health Investigations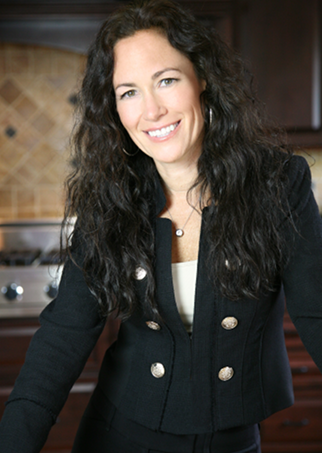 SCHEDULE A CONSULT WITH AMERICA'S HEALTHY HOME EXPERT!
Call TOLL FREE 866-743-8563

"More Americans suffer from Asthma, Allergies and Chemical Sensitivity than ever before."

All consultations at My Healthy Home®, LLC are performed by Caroline Blazovsky, America's Healthy Home Expert.

Her clients span from Maine to Alaska and everywhere in between. For almost 20 years, she has worked on the homes of the most famous to the everyday person who wants to environmentally improve their living space.


Caroline has developed many unique testing methods and products for residential consumers to evaluate their homes and maintain healthy environments economically. Her consultations are focused around examining homes for toxins and utilizing services for detoxifying homes that use technologies such as air sampling, ultraviolet light, plant purifiers, ventilation, sensing, moisture control and non-toxic products.

Her areas of expertise include home safety, mold, volatile organic compounds, green living and environmentally friendly construction. Smhe spends substantial time investigating new testing methods and products that will aid her clients with healthier living. Her specialty is working with individuals who suffer with allergies, asthma, chemical sensitivities and auto immune diseases. She is a certified mold remediator (CMR), indoor environmentalist (CIE), healthy home specialist (HHS) and has graduate education in sustainable design and public health. She resides on national panels for wellness and indoor air quality.

Caroline is recognized as a healthy home expert by nationally distinguished publications and the media. Caroline Blazovsky is the CEO of My Healthy Home®, a nationwide company that offers mold evaluations, indoor air/water testing, consultations and healthy home products. She is a published author, scientific contributor and media personality in podcasts, radio, television and print. She is available for consultations about home health, indoor air quality, mold and healthy building

Click here for a PDF copy of Caroline's Bio.
Consultations may involve testing and advice about home contaminants-mold, volatile organic compounds and allergens, reducing the use of chemicals in the home, improving indoor air quality, "greening" a residence, or using environmentally-friendly building products. This service is avalable for $150.00 per hour (does not include long distance phone charges).
How to schedule your consultation:
•Call My Healthy Home® toll free at- 1.866.743.8563.
•When you call My Healthy Home® leave your name and phone number, PLUS two or three of the most appropriate times for us to return your call, to schedule, or actually provide the consultation.
•To obtain the most benefit, be sure to also indicate what you would like to discuss during your phone consultation.
•24-hour notice required to reschedule or receive a refund.

My Healthy Home® is a Distributor for some of the nation's #1 indoor air quality products. If you are a homeowner, contractor or physician, please talk to us about some of the following merchandise and our excellent pricing. Our products are custom designed for the needs of our individual clients.

• IVP Air Filtration Systems - This heated filtration system is the first to show actual Sars-2-Covid, to be destroyed instantly in a single pass, without heating ambient air.

• Altantic Ultraviolet - Ultraviolet lights for air and water disinfection in the home or office Reduce Bacteria, Virus and mold that may invade your air.

• Thermastor Dehumidifiers - Reduce mold and dust mites with Santa Fe and Ultra-Aire Dehumidification.

• Ultimate Air - RecoupAerator Energy Recovery Ventilator for Fresh Air indoors improve air quality.

The tests referenced below are basic starting points for the homeowner. Much more extensive tests are available for all three categories, mold, air and water. Due to the fact that testing kits become contaminated once opened and have a limited shelf life, there are no refunds on test kits or testing materials. ALL SALES ARE FINAL. For more information, call My Healthy Home® toll free at 866-743-8563 now!
Call toll free 866-743-8563 to schedule a mold test.
The

Mold Test Kit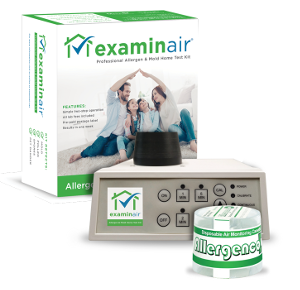 Buy

Allergen and Mold Home Test Kit
Detects:

mold

spores

skin cells

pet dander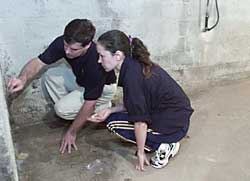 Easy Home Mold Testing - The Same Test Professionals Use
Try our "State of the Art" Mold and Allergen Test Kit

as seen and heard on television and radio programs across the country.
Recommended by top physicians. Used by doctors to determine causes of allergens in the home.
Sample approximately 2,000 sq feet of your home with the ease of a do it yourself test kit and find out if you have allergens in your home!
Suspicion of toxic molds -Water Damage, leaks and Flooding
Musty Smells
Basements and underground dwellings as well as homes built on slabs( These breed moisture which aid mold growth)
Allergies/Asthma/ & health issues( headaches, sleeplessness, restlessness, anxiety, or other health problems)
Purchasing a home (Protect yourself from buying a contaminated home and save costly renovations
Preventative Maintenance (Monitor overall levels yearly and see if levels grow over time. This will prevent expensive remediation later.)
Additionally, we offer other testing methods.
Bulk Samples with Lab Analysis:
A piece of material that the mold is growing on. Place the sample in a plastic bag and we will analyze it for mold species that may jeopardize your health and home.
Surface Sample with Lab Analysis:
This test requires the customer to sample the moldy surface with clear tape or swabs provided My Healthy Home. These materials will be packaged and sent to the laboratory. (Specific for Stachybotrys testing).
Call toll free 866-743-8563 to schedule an air test.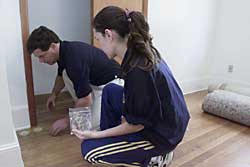 Air testing can be made easy with do-it-yourself kits and the help of our consultations and laboratories. Always remember, more sophisticated and accurate testing more professional equipment. Our testing is limited in scope and used as a screen test and a preventative measure. It is designed for residential testing with economical pricing.

VOC (Volatile Organic compounds)-Represent a large variety of chemicals that exist as a gas or can easily off gas under normal room temperatures. Some major sources include Photocopying materials, paints, gasoline, refrigerants, personal hygiene and cosmetics products, building materials, disinfectants and pesticides. Most VOCs are generally present in very low quantities in the indoor environment. Symptoms attributable in human response to VOC's are often similar to those from other indoor contaminants such as particulate and biocontaminants. Many people living with chemical contaminants become use to the odors and are unable to detect that they are living in a compromised environment.
Reasons to test your home:
Purchase of a new home/out gassing of chemicals from new construction and manufactured products

Recent construction or remodeling inside your home

Unexplainable Health Complaints: Allergies, Asthma, Headaches, eye and respiratory irritation, malaise or other health problems

Measures levels of VOC's from cleaning products, paints, gasoline, disinfectants and pesticides used or stored in the home.

Purchasing a new home and evaluating possible toxins in the home

General Home Maintenance and preventative measures to insure the safety of your family particularly children
What are VOCs?
VOCs are chemicals that are emitted as gases from solids or liquids and easily evaporated into the air at room temperature. Concentrations of these chemicals can be up to 100 times higher indoors than outdoors. Thousands of products, many that we use or are exposed to every day, emit VOCs into the air while they are being used, and even when they are stored. All VOCs have the potential to be harmful, and there are even a few common VOCs that can be particularly dangerous to our health. Symptoms such as frequent headaches, dizziness, fatigue, nausea, coughing, wheezing, and eye, nose and throat irritation can be indicators that the quality of air in your home is poor - especially if these symptoms subside once you leave the house. Other more serious health problems that can arise with poor indoor air quality are asthma exacerbation, digestive problems, and damage to the liver, kidneys and central nervous system. Some air contaminants are so harmful that they can even cause cancer.
The PREDICT™ VOC Screening Test Kit
The PREDICT™ VOC Screening Test Kit provides a simple, economical screening of indoor air quality by testing for total levels of Volatile Organic Compounds (VOCs) and Mold VOCs (actively growing mold behind walls or carpeting). These two index numbers are excellent indicators of the overall indoor air quality of a home.
The PREDICT Test & Analysis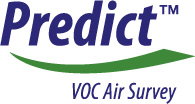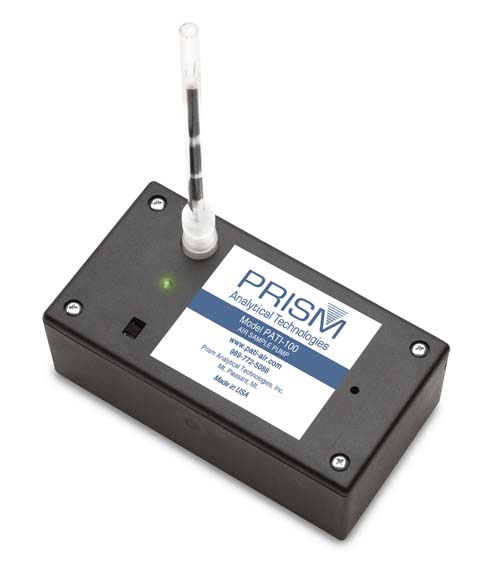 Benefits of the PREDICT™ VOC Screening Test

Quickly determine total levels of harmful indoor air pollutants, including hidden mold - the only test of its kind on the market

Receive information on potential sources of air contamination

One test covers up to a 2,000 sq. ft. area

Specific IAQ problems can be identified with optional 350+ VOC compound analysis, without taking another air sample (additional cost incurred)

Receive expert consultation for interpreting the test results or suggestions for improving indoor air quality
An air sample can be collected in 3 to 4 hours and covers an area of approximately 2,000 sq. ft. The sample is then sent to our Nationally accredited Laboratory for analysis. Reports from your analysis will tell you if your total VOC levels are within a safe, acceptable, or elevated range, and what the possible sources of contamination are. If levels are determined to be elevated and there is a desire to identify exactly which VOCs are present in the air, an additional analysis can be performed at the lab, for an additional fee. There is no need to take another air sample.
With PREDICT, you can receive a total assessment of the air you and your loved ones breathe everyday - simply, safely, and economically.
Additional literature
REVEAL™ Comprehensive VOC Test and Analysis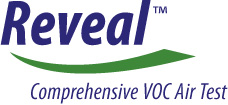 Like the PREDICT VOC Screening Test, the REVEAL™ Comprehensive VOC Test gives an excellent assessment of overall indoor air quality. However, the REVEAL test goes even further by providing detailed answers to questions of "What's in my air?" The REVEAL test surveys over 350 Volatile Organic Compounds (VOCs) in the air with a single sample (covering approximately 2,000 sq. ft.). With its extreme sensitivity in the parts per trillion range, the REVEAL test is particularly useful when investigating odor concerns.
The REVEAL Test & Analysis
An air sample can be collected in 3 to 4 hours, then sent to Prism Analytical Technologies - the air testing laboratory that developed PREDICT and REVEAL - for a comprehensive analysis. In a few days, you can know exactly what is in the air you and your loved ones are breathing. This extremely sensitive and detailed analysis will help identify the sources of contaminants, odors, and air pollutants, and can even identify problems before they become disruptive.
MY HEALTHY HOME NOTE:
Identification of unknown odors is a difficult task. There are roughly 200 top VOC's that may or may not be the cause of your problem. This type of testing should help determine most of the potentially troublesome gases. We recommend you consult your physician or Environmental physician for correlations between chemicals in the sample and your health concerns. For more information, contact My Healthy Home® at 866-743-8563.
Call toll free 866-743-8563 to schedule a water test.

Our goal at My Healthy Home®, is to educate consumers about the current conditions of our drinking water and promote a healthy home environment.
Here are reasons to test your water now!
Water is often referred to as a universal solvent because of its ability to dissolve almost anything it may contact. This superior solvent action of water allows it to be easily contaminated by water-soluble waste or materials. Over 700 chemicals haven been found in America's drinking water supplies, almost none can be tasted, smelled or seen. Arsenic, lead, mercury, pesticides and herbicides are among the hundreds of contaminants which have invaded our water. Many of these dangerous and toxic items can only be uncovered by performing a comprehensive and sophisticated series of analyses.
Experts for the Center for Disease Control estimate that one million people get sick each year from contaminated water and nearly one thousand of these people die.
Some studies have shown that you are exposed to as much water pollution during a twenty-minute hot shower as by drinking two quarts of tap water per day.
Chlorine, for example, in the digestive track can upset the balance of intestinal flora and promote infections. Chlorine related toxins may be proven in the future to be the one of the most important environmental carcinogens in terms of cancer per year.
Remember, keeping you and your family healthy and safe is the goal. Review the steps below to better understand how to test effectively:
Know the water supply is safe for you and your family to drink. Have it analyzed by an independent certified testing laboratory and compare the results to the limits established by the Safe Drinking Water Act. Self -testing kits are also available that can flag some of the more common problems.
If the analysis shows a problem, seek the help of a reputable water treatment specialist.
Follow advice and order treatment equipment according to manufacturers suggested maintenance schedule and instructions.
Have the drinking water retested after installation to be sure the equipment is performing as advertised.Have a comprehensive water analysis performed on your water. Testing is recommended annually to maintain a record of the quality of water and to make sure no significant changes are occurring.
National Testing Laboratories has been offering affordable drinking water testing to homeowners for the past 25 years. Whether your drinking water comes from a private well or public water supply (city water), the Watercheck products are specifically designed for both types of water supplies. These products answer the question "What's in my Water?
Watercheck Test Kit
Standard
ISO 17025 CERTIFIED TESTING
87 Analytes Tested
• Bacteria
• Metals & Materials
• Inorganic Chemicals
• Physical Factors
• Uranium
• Volatile Organic Molecules
• Trihalomethanes

Click here to see a sample report
Call toll free at 866-743-8563 for pricing
Watercheck Test Kit
Deluxe
ISO 17025 CERTIFIED TESTING
107 Analytes Tested
• Bacteria
• Metals & Materials
• Inorganic Chemicals
• Physical Factors
• Uranium
• Volatile Organic Molecules
• Trihalomethanes
• Pesticides, Herbicides, & PCBs

Click here to see a sample report
Call toll free at 866-743-8563 for pricing
Watercheck Test Kit
City Standard
ISO 17025 CERTIFIED TESTING
94 Analytes Tested
• Disinfectants & Their Byproducts
• Metals & Materials
• Inorganic Chemicals
• Physical Factors
• Uranium
• Volatile Organic Molecules
• Trihalomethanes

Click here to see a sample report
Call toll free at 866-743-8563 for pricing
Watercheck Test Kit
City Deluxe
ISO 17025 CERTIFIED TESTING
115 Analytes Tested
• Disinfectants & Their Byproducts
• Metals & Materials
• Inorganic Chemicals
• Physical Factors
• Uranium
• Volatile Organic Molecules
• Trihalomethanes
• Pesticides, Herbicides, & PCBs

Click here to see a sample report
Call toll free at 866-743-8563 for pricing
Make a Healthy Home today, with My Healthy Home
My Healthy Home has CMR (Certified Microbial Remediation) and CIE (Certified Indoor Environmentalist) certification and is a member of the Indoor Air Quality Association. Our credentials also include official recognition as a Healthy Homes Specialist from the National Environmental Health Association and Sustainable Design educational background. All work is based on the current standards provided by the EPA, IICRC S500, IAQA, ASHRAE, NEHA as well as New York City and California indoor air quality standards.
TOLL FREE 866-743-8563
info@myhealthyhome.info
©2021 My Healthy Home®, LLC
My Healthy Home ® and Healthy Home Expert ® are registered trademarks of My Healthy Home